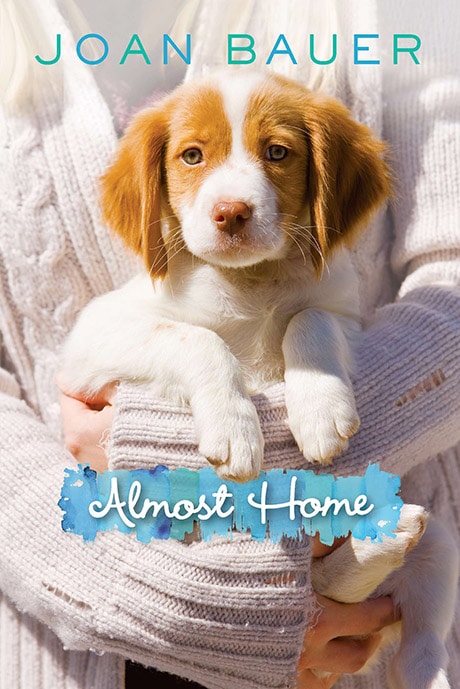 Almost Home
A courageous girl loses her home, but she doesn't lose her dream.
"Newbery Honor winner Bauer has created one of her strongest young women yet…"
                                                 — Kirkus Reviews — starred
"Skillfully tells the tale of precocious and street-smart Sugar Mae Cole."
                                                 — John Grogan, author of Marley and Me, for The New York Times
"Told with humor and pathos…a memorable novel…"
                                                  — School Library Journal
 A Texas Lone Star Book
 A Bank Street College Best Children's Book of 2013
 Nominated for seven state awards
"Bauer's trademark humor lightens the serious subject matter, while Sugar's frank honesty will give young readers a glimpse at a situation affecting a growing number of children."
- Booklist
The Story
     Sugar Mae Cole doesn't often get downhearted, but lately it's been a struggle to keep up her spirit. Newly homeless, Sugar, her mother Reba, and her beloved rescue dog, Shush, have come to Chicago to make a fresh start.  But it seems like everything goes wrong. Pouring her feelings into letters and poetry, Sugar is honest about her fear and confusion while holding tight to her dreams for a normal life… and learns to reach for the best she's got during the worst time in her life.
"Sugar's anger, fear, humility, and resolve are portrayed with insight and compassion."
- Publishers Weekly

"Sure to inspire"
- Library Media Connection,
QUESTIONS. ANSWERED.
SUGAR IS SUCH A STRONG CHARACTER — WHAT IS HER GREATEST STRENGTH?
     It's hard to pick just one, but I'd say her gratitude — she writes thank you notes to people, she looks for the good.  She is deliberate about holding onto the best of what she's got during the worst time in her life.  And that gives her strength every day.
WHY DID YOU WRITE THIS STORY?
     I've volunteered in shelters over the years and there are just some people and kids that you know have exceptional resilience despite some horrific circumstances.  You just know they're going to rise above their situations and live large.  I wanted to try to get into the hearts of minds of people like that.  It's so inspiring.
But as the numbers of homeless children escalate in our country, I knew I had to find a way to tell the story of one remarkable kid fighting against the odds.
HOW MANY CHILDREN ARE HOMELESS IN AMERICA?
     Almost 25% of children In America live at or below the poverty line according to CBS's 60 Mintues, — based on  government statistics, that's between 16-18 million kids, and according to a New York Times article, 1.6 million of them are homeless.
WHAT KIND OF RESEARCH DID YOU DO FOR THIS BOOK?
     I spoke with several therapists who knew these challenges, and one woman had actually been an inspector of foster homes for the state of Illinois in Cook County, where the story takes place.  I read as much as I could, and met with a group of homeless women a few years ago and heard them talk about the issues facing them and their children.  I pulled from a time years ago when my sister and I volunteered at a homeless shelter.  We went every Tuesday night for a year — got there around 5PM, made dinner for the folks, slept there, and helped get breakfast out and left at 7AM.  It was such a powerful time, meeting the people close up and hearing their stories.  Those faces were carved across my heart.  Also, I ran away more than once when I was a teenager.  I'm not saying I lived on the streets, but I have a bit of an idea of what it feels like to not have a home for awhile.  I certainly know what it's like to not be safe.
THIS IS A SERIOUS STORY, BUT IT'S ALSO FUNNY. HOW DID YOU BALANCE THAT?
     Shush, the rescue dog adds a real touch of cuteness and humor as Sugar tries to show this little abused dog how not to be afraid of the big, scary world, and how he's got to learn to trust.  Also, she and her mother are big on writing thank you cards, which you don't normally think of doing when you are trying to survive.  Sugar is just this wonderful combination of toughness and sweetness and the way she went through the world, made me smile.  More than smile — it made me cheer for her.
THE PROBLEMS FOR SUGAR KEEP BUILDING AND THEN YOU ADD ON SOMETHING VERY DIFFICULT, HER MOTHER'S SERIOUS DEPRESSION…
     I got an email from a children's librarian about Almost Home — she said, thanks for not soft-soaping the problem, but showing the truth of how hard it is.  It wasn't something I knew I was going to do right away, but as I developed the story and got to know the characters, it felt like a natural, though very tough progression for Sugar and her mother to have to face a hornets nest of escalating problems.  I wanted to show that hitting bottom can be reversed.  It's never with big leaps, but with small steps forward, with people who care enough to help in wise, loving ways.
WHAT DO YOU HOPE PEOPLE WILL UNDERSTAND ABOUT HOMELESSNESS FROM THIS BOOK?
     Never take a homeless person for granted.  Never think they don't have dreams or exceptional gifts inside.  We can do something to help.  We have more power than we know.
SUGAR LEARNS RULES FOR LIVING FROM HER GRANDFATHER. WHAT RULES DO YOU HAVE?
     Here are a few of them:
Care about people.
Be grateful.
Be kind.
Laugh with people, not at them.
Don't gossip.
Work hard, very hard, to achieve your dreams.
Learn what you're good at, what gives you joy, and don't lose it.
Have fun moments tucked in the pockets of your day.
Practice hope.
Trust God.
Discussion Questions
From Penguin Young Readers Group
What are some words that come to mind when you think of people who are homeless?

 

Do those words accurately describe Sugar and Reba?
There are a lot of things happening in Sugar's life that she can't control because she's only in the sixth grade– like having to leave school, moving with her mother, and having to live with foster parents.

 

What are some things that Sugar does to make the best of these situations?

 

How does Sugar retain her own sense of agency?
Being gracious and polite is very important to Sugar and Reba.

 

What kind of strength does this give Sugar?

 

How do other people react to her disposition?
Does Almost Home have a happy ending?

 

Explain why you think it does, or why not.