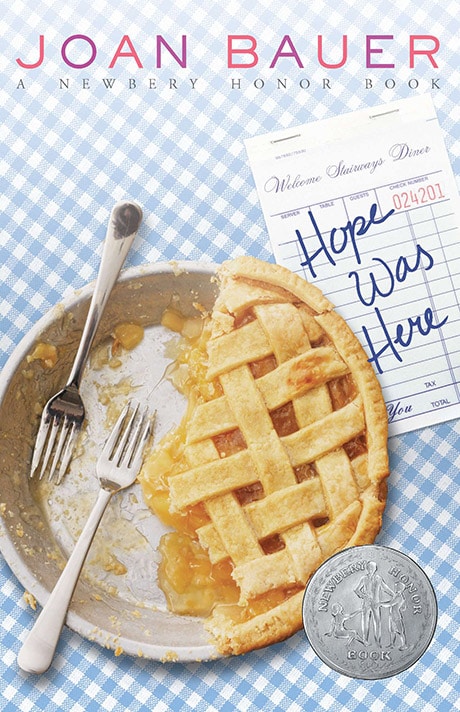 Hope Was Here
Ace teenage waitress, Hope Yancey, and her aunt Addie move from Brooklyn to work in a diner in Mulhoney WI, where their new boss is recovering from leukemia and getting ready to run for mayor to clean up the corruption in town.
"When it comes to creating strong, independent, and funny teenaged female characters, Bauer is in a class by herself."
— School Library Journal, starred review
Winner of the Newbery Honor Award
Winner of the Christopher Award
Winner of Michigan's Thumbs Up Award
Winner of the M. Jerry Weiss Reading Award
An ALA Notable Book
An ALA BBYA
Nominated for 25 State awards
"Its triumph is the way in which Bauer manages to recount the internecine politics and power struggles of a small, midwestern town"
- Michael Thorn, The Scotsman
The Story
     Food is in 16-year-old Hope's blood.  With her aunt Addie, diner cook extraordinaire, she's traveled the states and honed her waitressing skills, impressing hungry people everywhere. But Hope never gets to stay in one place very long, and that's hard.
     This latest move threatens to be the hardest yet, leaving the excitement of New York City to run a diner in rural Wisconsin. Hope doesn't expect to feel at home there, just as she doesn't expect to get caught up in town politics. But her occupation has taught her to read people, and instinct tells her to trust G.T. Stoop, the straight-shooting owner of the Welcome Stairways Diner.  What follows, as Hope meets politics, corruption, and her past head-on, is,  at its heart, a story about honor, trust, and serving up your very best.
"It's as if the novel had been written by someone actually coming of age."
- The New York Times Book Review

"Deliciously funny...Sometimes sad and always poignant."
- Teenreads.com

"Hope is as full of optimism as her name... Heartwarming"
- Kit Spring Observer

"A thought provoking, beautifully written novel"
- Waterstones Books Quarterly
Discussion Questions
From Penguin Young Readers Group
Why does the main character choose the name Hope?

 

How does this name affect the way she lives?

 

How different is it from the name her mother chose?

 

What name would you choose for yourself, given the chance?
What lessons does Deena teach Hope about waitressing?

 

Do these lessons have any bearing on real life?
What makes Aunt Addie a better guardian that Deena?

 

Does Hope lose anything by being trained by her aunt? What does having a father mean to Hope?

 

Does G.T. fulfill these requirements?
Why does wearing the red clown nose make Hope feel so much better?

 

Is there anything else in her life that serves this same purpose?
Recipes
Keep Hoping Sandwich:
a sandwich for our time
For each sandwich:
1 sourdough roll, cut in half the long way
several slices of smoked turkey
thinly sliced fresh mozzarella cheese
1-2 tsp (or more) thinly sliced sun dried tomatoes
1/2 cup chopped salad greens
red wine vinaigrette dressing
Layer turkey and mozzarella onto bottom half of roll; sprinkle sun dried tomatoes over top; place salad greens on top; sprinkle with vinaigrette to taste, add the top half of the roll, press down gently and enjoy.