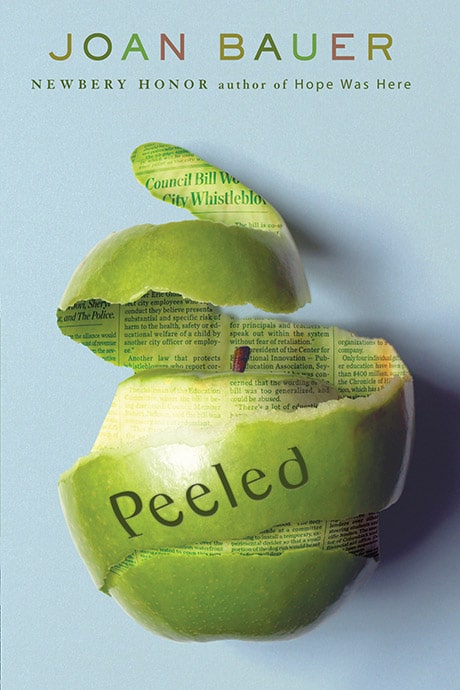 Peeled
High school journalist Hildy Biddle is covering a big story and asking a huge question: Is there a ghost at the old Ludlow House, or is this an urban legend promoted by a local newspaper desperate for more readership?
"Wonderfully teachable, highly readable, and ready to delight Bauer fans, old and new."     
— VOYA highlighted review
 Nominated for 3 state awards
Lies.  Propaganda.  Fear.  Hysteria.  Courage.  Freedom of the Press.  Truth.
"Vintage Bauer, a warm and funny story full of likable, offbeat characters led by a strongly voiced, independently minded female protagonist on her way to genuine, well-earned maturity...A-peeling all around!"
- School Library Journal
The Story
      There is so much coming at ace reporter Hidly Biddle that she's not sure what's true anymore.  The big story in town is that a ghost is on the loose and plenty of people are scared.  It doesn't help that the local newspaper is running frightening headlines.
      Hildy is the kind of reporter who is determined to stick to the facts.  That is the only way she can find out who or what is really threatening her town.  But what are the rules of good journalism, anyway?  Does the truth have a chance of being heard over all the buzz?
"Sharp pacing and an intriguing premise... Bauer renders a fully realized portrait of a small town dependent on an ever-fragile economy and threatened by modern encroachment. As always, she stocks her work with strong, sage women, the elements for a budding romance, and plenty of funny moments. But it's Hildy readers will remember longest, a smart girl who realistically blends the spunkiness, brains and good humor that is Bauer's stock-in-trade."
- Publishers Weekly, starred review

"Hildy's crisp, declarative narration, subtly emulating a journalistic style, sings with tart humor and quixotic purpose."
- Horn Book

"As a high-school journalist, Hildy Biddle tries to cut the fluff. Can she discover the truth about bad events in "The Happiest Town in the Happy Apple Valley"? Is there a curse, or is it just a bad year for apples? Hildy is not a distanced teen-she cares about the farms and the families-and she is strong and funny. In Hildy's words: " 'Teenagers are like bees at night, I think. We don't like waking up and we don't always get with the program immediately, but once we figure out our mission, we'll see it through.' "
- Chicago Tribune

"A winsome entry into issues of journalistic free speech and the impact of sensationalism in the media..."
- School Library Journal-Curriculum Connections
Questions. Answered.
YOU'VE DESCRIBED PEELED AS A KIND OF WAR STORY. WHAT DO YOU MEAN?
One of the things I tried to show in Peeled is how words have such power for good or for bad. Hildy enters a kind of war of words — she's trying to find and write the truth, while frightening slogans, headlines, and signs are being displayed all around town.
PEELED HAS A MYSTERY ANGLE TO IT. HOW WAS WRITING PEELED DIFFERENT THAN WRITING YOUR OTHER NOVELS?
I found writing an actual mystery to be very difficult at first. In some ways, I believe, all novels are mysteries in that the author leaves clues for the readers about the story and the characters. But plotting an actual mystery challenged me. When I write I'm not always sure where the story is going, but with a mystery, you have to know in advance and lay down those clues, so I was forced to think a great deal about plot early on. Once I did, though, I had great fun thinking through all the elements of intrigue and misrepresentation.
I found out that I'm much sneakier than I actually knew! I had great fun crafting Hildy Biddle's character and realized about midway into the writing that part of the way she learns is through trial and error as a journalist, so I have her growth as a journalist intersecting with the growth of the fear happening in town. I found that to be a fascinating way to develop the plot.
IN PEELED, HILDY FINDS INSPIRATION AS A JOURNALIST FROM HER LATE FATHER, OFTEN WRITING TO MAKE HIM PROUD. AS AN AUTHOR, WHO ARE YOUR INSPIRATIONS?
My grandmother is an enduring inspiration to me — she was a storyteller, quite famous in her day, and knew how to tell a story that could make people laugh and cry while poking gentle fun at the world's absurdities. As a writer, one novel has inspired me more than any other — To Kill A Mockingbird by Harper Lee. I still go back to that story to learn how to create memorable characters and put them in a setting that will stand the test of time.
As far as being inspired by journalists, I grew up in Chicago and was a huge Mike Royko fan (he wrote for the Sun Times and the Chicago Tribune). Royko was tough and funny and that combination really caused his voice to be heard. I was greatly inspired as a young adult by Carl Bernstein and Bob Woodward's investigative reporting at the Washington Post during the Watergate years. What a time that was in our country, and these two young reporters sniffed out the biggest political story of the decade and ran with it against the odds. I suppose I gave some of their courage to Hildy Biddle, my sixteen-year-old reporter in Peeled.
Baker Poulton's Rules of Good Journalism

Don't shortchange an interview. Ask all the questions you can–you never know what might come out!
Keep good eye contact. It shows confidence.
Confirm everything–during the first twenty-four hours of any breaking story, about half the facts are wrong.
Less is more–less description, more facts. Only describe it if it means something.
If you don't take yourself seriously, the person you're interviewing won't either.
If it ever gets easy, do something else!
Discussion Questions
From Penguin Young Readers Group
Why do you think that publishing the truth is so important to Hildy?

 

Can you think of an instance in the real world where false reporting led to unexpected consequences.

What does HIldy see in Zack that she doesn't see in Lev or Nathan?

 

Why do you think she's so hesitant about getting involved with him romantically?

One of the lessons Minska teaches Hildy is about the harmful effects of propaganda.

 

What examples of propaganda do we see in the novel?

 

How does this affect morale in Banesville?
Baker tells Hildy that "the future of the world depends on how many people are mature enough to be nonconformists."

 

How do you feel about this?