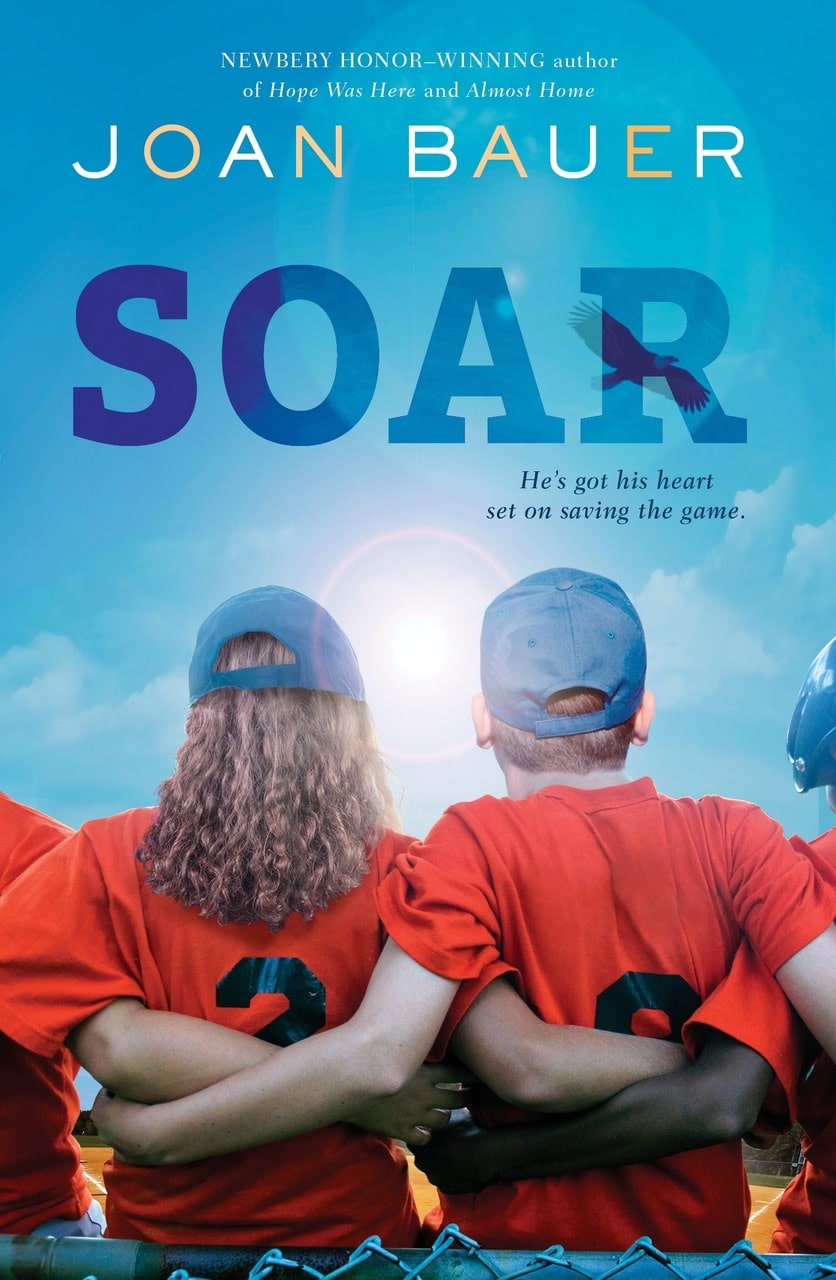 Soar
A boy who can't run gives a town wings.
"An outstanding, tender exploration of courage  and the true nature of heroism…"
— Kirkus Reviews, starred
"Largehearted warmth…able characterizations, a page-turning plot, and winning humor."
— Booklist, starred
"Joan Bauer is a superb author who knows how to get readers to care about her characters . . . This book is perfect for middle school students and would make a great read-aloud."
— School Library Connection, starred review
"Triumphant and moving."
— School Library Journal
Winner of The Christopher Award
A Texas Bluebonnet Book
Winner of the Charlie May Simon Honor Book Award of Arkansas
An ILC Children's Choices pick
A Black-Eyed Susan Book Award Nominee
A Dorothy Canfield Fisher Book Award Nominee
An Illinois 2018 Bluestem Award Nominee
Jeremiah has a lot of heart, which is a little ironic, since the heart that beats in his chest is a transplanted one. For a sixth-grader, he's very wise. When his adoptive dad, Walt, has to make a temporary move to a small, baseball-fixated Ohio town, it seems like the perfect opportunity for Jeremiah to make use of his can-do attitude to revive the nearly defunct middle school baseball team. He's too sick to play, but he loves the game, and he's an incredible coach. He also brings those same brightly inspiring skills to bear on his across-the-street neighbor, Franny, who's suffering from a loss that involves her absent father... An outstanding, tender exploration of courage and the true nature of heroism and, for good measure, a fine homage to America's game, as well. (Fiction. 9-13)
- Kirkus Reviews, starred
The Story
Jeremiah is the world's biggest baseball fan and he knows just about everything there is to know about the game. So when he's told he can't play baseball following an operation on his heart, Jeremiah decides he'll do the next best thing and become a coach. The problem is, there's not much call for a twelve-year-old coach.
Hillcrest, where Jeremiah and his father Walt have just moved, is a town known for its championship baseball team. But Jeremiah finds the town caught up in a scandal and about ready to give up on baseball. It's up to Jeremiah and his can-do spirit to get the town – and the team – back in the game.