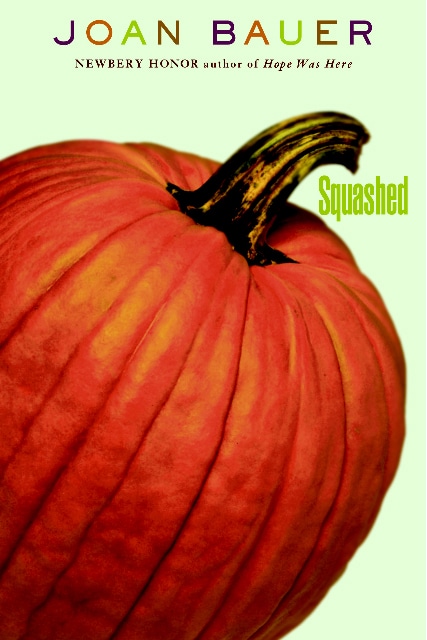 Squashed
     Ellie Morgan is allergic to giving up, and she puts it all on the line to battle tradition and her father's wishes in her quest to grow the biggest pumpkin in Iowa.
"This laugh-out-loud story is a delight…Ellie proves herself an all-around winner. So is Max and so is this book."
— School Library Journal, starred review
Winner of the Delacorte Prize for an Outstanding First Young Adult Novel
Nominated for 13 state awards
A School Library Journal Best Book of the Year
"This laugh-out-loud story is a delight...Ellie proves herself an all-around winner. So is Max and so is this book."
- School Library Journal, starred review
The Story
     Humor, agriculture and young love all come together in Joan Bauer's first novel, set in rural Iowa. Sixteen-year-old Ellie Morgan's life would be almost perfect if she could just get her potentially prize-winning pumpkin to put on hundreds of more pounds–and if she could take off 20 herself… in hopes of attracting Wes, the new boy in town.
"Squashed is fast-paced and engrossing entertainment that startles the reader with its underlying strength."
- Publishers Weekly

"Delightful fun!"
- Kirkus Reviews

"This is a funny, fast-paced book about an ordinary girl with an extraordinary ambition."
- The New York Times
QUESTIONS. ANSWERED.
DID YOU EVER GROW A GIANT PUMPKIN?
     No.  I've never grown a vegetable that lived.  But I was fascinated by the process.  I did a great deal of research for this book.  Certainly, on the   surface, the story is about putting a seed in the ground and trying to grow a giant.  But that is also, symbolically, what happens when we try to "grow" a big dream.  I thought about both of those things when I wrote SQUASHED, my first novel.  Ellie's dream was crystal clear — to win the Giant Pumpkin Weigh-In.  My dream was clear, too — I wanted to be a published writer.
IS IT TRUE THAT SQUASHED IS BECOMING A MUSICAL?
     It is true.  I'm working with Jeff Bouthiette of Second City and we are creating the play, the songs, and the lyrics together.  We are still in the early stages of this project, but it's very exciting.
SQUASHED WAS YOUR FIRST NOVEL. HOW HARD WAS IT TO WRITE THAT FIRST BOOK?
     I had an extra problem thrown at me, I was in a car accident and I had to have surgery to repair a disk in my neck.  I was not at my best, so much pain, and the thought of writing anything seemed impossible.  But Ellie, the protagonist in SQUASHED, seemed to jump out of me and insist that I tell her story.  So over those months, I wrote a little bit at a time as my injury allowed.
WHO IS YOUR FAVORITE CHARACTER IN SQUASHED?
     I have two.  Ellie Morgan, the 16 year old, tough as nails narrator.  And Nana, her grandmother, who understands the deep ways of agriculture.
Discussion Questions
From Penguin Young Readers Group
Why is growing pumpkins so important to Ellie?

 

Is it important to her to win?

 

Is there anything else in her life that connects her to other people and other times like growing does?
Why doesn't Ellie's father want her to grow pumpkins?

 

How does his choice of career change how he feels about Ellie's pursuits?
How does Ellie feel about talking to Max?

 

In what ways is this similar to talking to her mother's grave?

 

What good comes from each of these "conversations"?
What makes Wes different from the other boys in town?

 

Why does Ellie connect with him so easily?
Recipes
Mannie's Pumpkin Bread
(makes 2 loaves)
Mix all together:
1 cup oil
1 tsp salt
2 cups sugar
2 tsp baking soda
3 cups flour
2 tsp baking powder
2 cups pumpkin
3 tsp cinnamon
4 eggs
Bake at 350 degrees in greased loaf pans for about one hour.
Test for doneness with a thin knife.