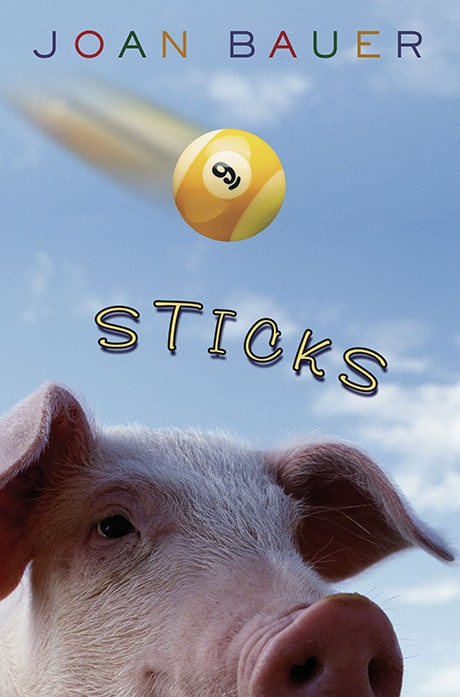 Sticks
      Mickey Vernon is desperate to win the pool tournament at his family's pool hall… but can he beat the bully and show he's got what his champion pool playing father had inside?
"Good characters, humor, and an engaging plot…a solid piece of middle-grade fiction. "
— Booklist
"Mickey's authentic voice draws readers right into the story…Characters both major and minor come to life."
             — Kirkus Reviews
Nominated for 11 state awards
"As she has done in previous books, Bauer showcases a young person's growth through deep commitment to a hobby; the novel's breezy first person narration and depiction of a close-knot community are equally appealing."
- Horn Book
The Story
      There's only one thing in the world Mickey Vernon really wants, and it's hanging in his family's pool hall. It's the awesome shirt that the winner of the ten-to-thirteen-year-olds' nine-ball championship will be wearing. But to win, Mickey has to beat Buck Pender who is probably part gorilla.  Not even his best friend, Arlen, a math whiz with a killer pet pig, can help Mickey.
      But when Joseph Alvarez, an old friend of Mickey's father and an absolute pool ace, offers to coach him. Mickey figures he has a chance. If only he can convince his mother to believe that Joseph will actually do what he's promised, unlike before…
QUESTIONS. ANSWERED.
WHERE DID YOU GET THE IDEA FOR THIS STORY?
      I played pool when I was a teenager and I always loved the game and the people.  There was a pool hall by my house and I spent a lot of time there getting my game sharp.  Over the years, I was intrigued the role that math and physics plays in the game, so I wanted to write a good story that had all those elements in it.
WAS IS HARD TO WRITE ABOUT SOMETHING YOU KNEW SO WELL?
      It was hard — and I thought it would be easy!  I never thought about the steps of playing pool when I was doing it — but when you have to write it and explain it, that's different. And incorporating the math took some time, but I created Mickey's best friend, Arlen Pepper, a math and science whiz, to bring that to life.
      We worked hard on the illustrations that Arlen drew to show Mickey how to play better.  I'm very proud of this book.  I've had people write to me over the years and say that they loved the story and it helped them improve their game.  I love that!
WHO IS YOUR FAVORITE CHARACTER?
      This book has lots of favorites for me — Mickey, his grandmother Poppy, but if I have to pick one it's Arlen Pepper, the math whiz, and his pet pot-bellied pig, Mangler.
THERE ARE A LOT OF FUNNY SIGS AND POSTERS IN THIS BOOK. CAN YOU TALK ABOUT CREATING THEM? 
      I wanted to show who these people were in as few words as I could.  So when we are introduced to Mickey's tough grandmother Poppy, we also learn about the sign that's on the wall of her pool hall and that sign tell us a whole lot about this lady:
THIS IS VERNON'S —
  IF YOU SPIT, YOU'RE OUT
  IF YOU SWEAR, YOU'RE OUT
  IF YOU'RE TROUBLE, DON'T COME IN.
— EDWINA P. VERNON, PROPRIETRESS
Another one of the signs is in Arlen's backyard.  He has a special way of scaring off bad guys thanks to Mangler, his fierce pot-bellied pig:
BEWARE
ATTACK PIG ON PREMISES
ENTER AT YOUR OWN RISK
THIS MEANS YOU
I'M NOT KIDDING
PART OF THIS STORY SHOWS WHAT IT'S LIKE TO PLAY HURT AND NOT GIVE UP. CAN YOU TALK ABOUT WHAT THAT MEANS TO YOU?
      I certainly learned after my car accident, how to keep writing even when my body hurt.  It's not easy, it's learning to focus — reminding yourself everyday, I've got this dream and I have to keep going.  In STICKS, both Mickey and his grandmother have to deal with this.  I pulled from my experiences, certainly, but I also researched how athletes keep going. All of that is in this novel.
JOSEPH ALVAREZ TELLS MICKEY ABOUT FINDING "GANAS" … WHAT IS THAT?
      It's a Spanish word for desire–the thing that makes you want something so bad you go after it with everything you've got.  Joseph Alvarez says, "Nothing important works without it."
Discussion Guides
Why is winning the pool tournament so important to Mickey?

 

Mickey and Arlen are very different, yet they are best friends.

 

What do you think connects them?

What is behind some of Buck Pender's meanness?

Why is Joseph Alvarez just now coming to support this family?

 

Is Mickey's mother justified in not trusting him?

 

What does he teach Mickey about ganas?
What does Poppy teach Mickey about playing when it hurts?

 

Why is this important?

What does Mickey learn about life from playing pool?
Recipes
Mickey's Famous Double Chocolate Chip Brownies:
3 boxes brownie mix
2 bags of chocolate chips
mix together and bake in a roasting pan
It will feed 6 ten year-olds