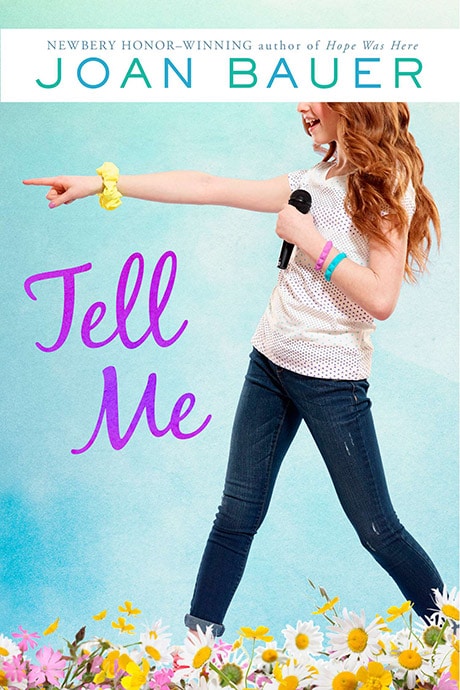 Tell Me
published in September 2014:
A young, comic actor with troubles at home, sees a girl who might be held against her will…but will anyone listen?
"A multi-faceted plot combining crime drama with a modern coming of age story.  Anna's voice rings clear…allowing readers to sing, cry…and keep their minds and eyes alert to worlds other than their own."
— School Library Journal
"Bauer manages the difficult feat of folding the topic of human trafficking into a middle-grade novel about daily-life family and peer struggles; in fact, Anna's conviction that the missing girl matters is part and parcel of her character throughout, as she similarly commits whole-heartedly to her acting efforts and beloved friends. . . Readers will appreciate the story for Bauer's classic and relatable heroine who pursues her goal through adversity."
- BCCB
The Story
      Anna really needs this vacation at her grandmother Mim's house in Rosemont. Maybe she can just enjoy the famous Flower Festival, and forget her worries about her parents' troubled marriage, if only for a little while. After all, Rosemont's unofficial motto is "Nothing bad happens here." So nothing will….right?
     But soon Anna finds herself caught up in a bigger problem: how to find out the truth about the girl she saw, the one with the frightened eyes. Is she being held against her will? Is she in danger? Anna is determined to help, to make something happen. But first, she has to make someone listen.
"I wouldn't think that an author could write a book about human trafficking for children in this age bracket, but Joan Bauer pulled it off with poise. She wrote the story in such a way that the reader is immersed in the main character's quest for justice for a little girl that she doesn't know. The book is also about saying something if you see something, trusting your instincts and being proactive. Most importantly, it champions not giving up."
- KidsRead

A South Carolina Book Nominee
-

"There are numerous, valuable messages for readers here: pay attention, trust your instincts, and speak up; sometimes being brave is about small, uncertain steps that we take; and helping others helps us, too. Humor and hope are balanced throughout..."
- VOYA

"In this novel filled with comedy and drama. . . Bauer skillfully weaves subplots together as Rosemont citizens (and Anna's parents) rise to the challenge of solving the mystery."
- Publishers Weekly

"Bauer has done an exceptional job of informing young readers about human trafficking without being heavy-handed or speaking down to her audience."
- Library Media Connection
QUESTIONS. ANSWERED.
HOW DID YOU GET THE IDEA FOR THIS BOOK?
TELL ME is a story pulled from the headlines, about a girl who sees something and says something.  I have two friends who are counselors for women at risk and they both counsel trafficked women, helping them start new lives. My friend Marie told me the story of a young girl who was a worker slave in a prosperous house in the Midwest — she didn't go to school and she looked bedraggled.  A girl who lived next door kept wondering if she was okay and finally went to the authorities, and this little girl was set free.
When I heard that story, I knew I had to write about this issue, but I wasn't sure how. Then I attended an event at the Writers Guild of America East (WGAE) and learned about Homeland Security's role in bringing traffickers to justice.  That was the impetus for me to begin TELL ME.
WHAT KIND OF RESEARCH DID YOU DO?
A great deal.  I spoke with counselors and with Homeland Security personnel.  I combed through court records about traffickers who had been brought to justice in this country and learned how nail salons can be a place where women are forced to work for little or no money.  Bit by bit, it all came together.
ANNA IS A VERY COMPLEX CHARACTER — SHE'S FUNNY, SHE'S EMOTIONAL, SHE'S WILDLY TALENTED, SHE HAS PANIC ATTACKS. WAS IT HARD TO CREATE A CHARACTER LIKE THIS?
It was hard — I kept thinking of new things to give her — I wanted her to have an "emotional toolbox" not just of courage, but of true character and love for people, this wild and crazy talent, and a sense of responsibility in working hard and helping people.  Anna is a real helper on this earth. She's the kind of kid who will take on the tough jobs and not give up until she gets them done.  This takes a toll on her — she's not a hero in a cape, but she's a true hero who keeps going despite fear and her life challenges.  And she's funny — I can't write a main character who isn't funny.  Keeping that humor as part of her was quite a task for me.
ANNA'S FATHER HAS ANGER ISSUES. WHY DID YOU CHOOSE THAT?
I think many people struggle with this. We live in an angry world — road rage, people unable to handle their emotions.  I wanted to show what that looks like and what it's like for the people in the family who have to live with it.  I also wanted to show how that kind of anger can be addressed and changed into a force for good.
THERE IS A WONDERFUL HORSE, ZOE, IN THE STORY. DO YOU RIDE?
I certainly have ridden, I never took lessons, but riding is the most fun and satisfying experience.  My daughter took lessons and rode for several years. I adore horses and I've learned the power in these animals — they are often used to help people emotionally.  They have great sensitivity and Zoe is a horse who cares.
WHAT DO YOU HOPE READERS WILL LEARN FROM THIS BOOK?
I hope they learn the power of speaking up and trusting in instincts and realize that this issue is greater than most of us comprehend.  There is a moment in the story when an officer tells Anna, "If you think slavery is history, you need to think again."
I also hope people will see the empathy, that ability to identify with another person's situation and feelings, at work in a big way.  That's the river running through TELL ME.
Discussion Questions
Why is understanding the world through other people's eyes so important to Anna?

 

Where did Anna get her courage?

 

Her persistence?

 

Can persistence be both a good and a bad personality trait?
What did Anna's training in drama teach her that she could use when the going gets tough?

 

How does wearing the cranberry and the petunia costume help Anna?
How does Dad's anger affect the family?

 

What examples of anger do you see in the world?

 

How can anger be turned into a good thing?
What is the connection that Taylor and Anna have?

 

How does Zoe the horse help them both?

 

What examples have you seen in the world where a hard experience turned out to be a good one?
Why does Anna say that Kim Su is her friend when she's never met her?

 

What does this story have to say about friendship?

 

How do you think Kim Su and her mother can begin to live a normal life?

Do you think Anna is a hero?