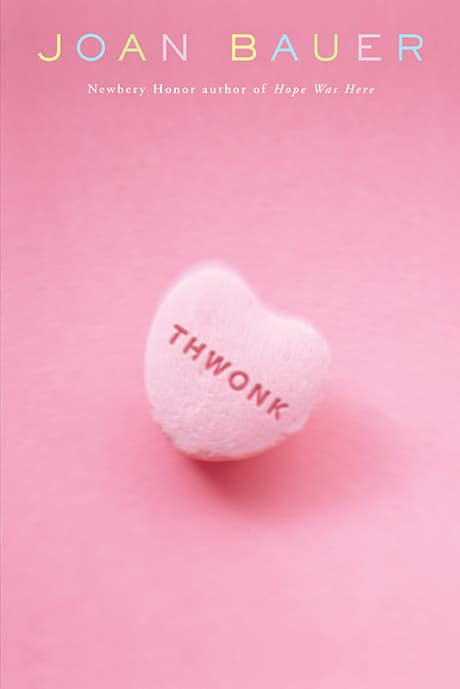 Thwonk
     It's not that A.J. McCreary is ignoring the real cupid who flits into her life, she just wants him to focus and do his job — get Peter Terris, the best guy in school, to fall in love with her.
"This wacky ride through affairs of the heart never grows predictable!"
— Kirkus Reviews, pointer
"Bauer's forcefully funny writing remains stylish from start to finish."
                                 — Bulletin of the Center for Children's Books
Nominated for 6 state awards
An ALA Best Book for Young Adults
An ALA Top Ten Quick Pick for Young Adults
A YALSA Popular Paperback
"Bauer's buoyant narrative will elicit chuckles as it delivers its message (thwonk!) with the accuracy of a well-aimed arrow from Cupid."
- Publishers Weekly
The Story
     Imagine having your own personal cupid–the actual winged being–pop into your life and offer to make your dreams come true. There's one catch. He can help you in only one way: artistically, academically, or romantically. That's what happens to aspiring photographer Allison Jean (A.J.) McCreary. A.J. knows she should concentrate on getting into art school, but then there's handsome hunk Peter Terris…And with just one shot from cupid's bow–thwonk!  A.J.'s life will change forever.
"Joan Bauer is a very funny writer."
- the Los Angeles Times on THWONK
QUESTIONS. ANSWERED.
WHERE DID YOU GET THE IDEA FOR THIS STORY?
     Someone gave me a little cherub figure for Christmas — one day I was holding it in my hand and I thought, what would happen if you came alive?  I held the angel up and looked at it.  And I kept asking myself more What Ifs…
What if this was a cupid?
What if he had great powers?
What if he came to visit someone who wanted him to do the absolute wrong thing…
An on and on.
That's how the story was born.
YOUR DAUGHTER HELPED YOU WITH THIS STORY ….
     Yes, I had real writers block during the writing of this book, I was so frustrated that I thought of taking the character of the cupid out — I couldn't get him to work.  Jean was twelve at the time, and she'd follow me around saying I could do it.  Do not remove the cupid, Mom!
A.J. McCREAY, THE NARRATOR, IS A SERIOUS PHOTOGRAPHER. ARE YOU?
     Not at all, but both my daughter and husband are very good.  So I got lots of photo tips from them for the story.
WHO IS YOU FAVORITE CHARACTER?
     Jonathan the cupid.  He's pushy and irritated and not particularly good with teenagers and he has centuries of experience that A.J. wants to deny because she is in love with a guy who is all wrong for her.
WHY DID YOU WRITE IT?
     I wrote it for my daughter, who was in middle school at the time. I wanted her to see the dangers of looking at people from the outside (how they look), and to understand some of the challenges of the in-crowd.  I wanted to write something funny that also had a lesson about love and life.
Discussion Questions
How does A.J. use her photography to see the world?

 

Why can't A.J. see that Peter Terris is the wrong guy for her?

 

What happens when people become obsessive?
Why does Jonathan the cupid not like working with teenagers?

 

How does he try to convince A.J. that she needs help in areas other than romance?

 

Jonathan calls A.J., "My friend."

 

Is Jonathan her friend?
What lesson does A.J. learn at the dance?

 

Why does Jonathan leave?

What do A.J. and her father have in common and how do they make their peace with this?

What does it mean to look at people from the heart?